IJJF and the history of it's Jui Jitsu
This Jui-Jitsu style of the IJJF has its origins dating back to the 17th Century. A certain Shirobei Yoshitoki Akiyama (although some claim it was Yoshin Miura) travelled to China. It is said that he journeyed to Tibet and after a period of contemplation and training developed the many combat techniques that formed the basis for the school known as Yoshin-Ryu or School of the Willow.
The not-for-profit IJJF foster a Japanese style of Jui-Jitsu (also know in the West as Ju Jitsu, Jiu Jitsu or Ju Jutsu) which originates from the Samurai, an elite warrior sub-culture of Japan and was developed in battlefield combat for hundreds of years. Jui-Jitsu originated in Japanese Samurai schools where warriors were taught combat methods, including various weapon arts.
Jui-Jitsu techniques were usually taught as a subsidiary method and included: strikes; joint locks; strangulations; and throwing techniques for use in an emergency if the Samurai was unarmed. During periods of peace, Jui-Jitsu was oriented more towards civil combat away from the battlefields. At the beginning of the Meiji period (1868-1912) restrictions were placed upon carrying weapons in public and as a result, the unarmed techniques of Jui-Jitsu grew in importance and functionality.
Literally translated to mean "the gentle art," Jui-Jitsu is a complete system of combat martial arts and philosophy originally practiced by the samurai in ancient Japan. Techniques from this style are used by military and police special forces throughout the world due to it's swift effectiveness. Jujitsu is also the father art of many classical Japanese arts, such as Judo, Sambo, Aikido, and dates back over 2500 years!
In 1928 a professional wrestler called Kam "Panther Hoe" Hock Hoe traveled to Singapore and under the instruction of Professor Watanabe, where he learnt the art of Jui-Jitsu obtaining the grade of 1st Dan. In 1930, he achieved his 2nd Dan under Professor K. Yamamoto in Hong Kong. He later completed his 3rd Dan and Kuatsu training in Kobo, Japan under Admiral Yamamoto in 1935.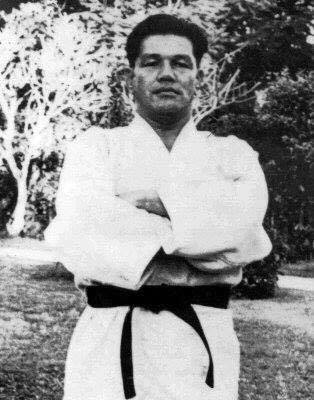 After his studies in Japan, Professor Kam Hock Hoe returned to Malaya via Shanghai, and in 1935 he founded Hoe's Jui-Jitsu Studio in Kuala Lumpur also teaching boxing and self-defence training to the Malaya police forces and Australian Defence Force personnel who served in Malaysia for over 40 years. Professor Kam Hock Hoe went on to make a dramatic impact on the Martial Arts' scene in South East Asia. During his time in Malaysia, Professor Kam Hock Hoe was particularly noted for the large number of Australian service men and women he instructed at the RAAF Base Butterworth through the 1960's, 1970's and 1980's era. Prior to leaving the Butterworth area, he started the International Jui-Jitsu Association, which later became the International Jui-Jitsu Foundation (IJJF).
The IJJF was founded in 1979, registered in Malaysia in 1982. When Professor Kam Hock Hoe left the Butterworth area he commissioned the late Grand Master Gurasami Rajathurai to head the foundation. Many service men and woman will remember their days training at the RAAF Jui-Jitsu club either at the Butterworth air base or on Penang Island under the late Grand Master Gurasami Rajathurai and Grand Master Aridas Selveraj with much fondness.
The IJJF's previous Grand Master of the International Jui-Jitsu Foundation is now the late Grand Master Gurasami Rajathurai , 6th Dan, Master Dan, Kuatsu Specialist. Grand Master Gurasami Rajathurai started his martial art career with a grounding in Tae Kwon Do (Brown belt) did Karate for six months before moving on to Siamese Boxing he then went on to spent a year doing Shaolin Kung Fu. Grand Master Gurasami Rajathurai then started his Jui-Jitsu instruction under the famous Professor Kam Hock Hoe in 1963 and through perseverance rose to the rank of 4th Dan Master.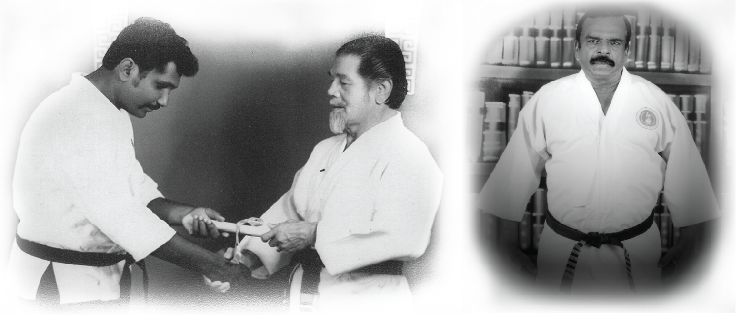 Our current Grand Master is 6th Dan  Grand Master Aridas Selveraj, who along with our late Grand Master 6th Dan Gurasami Rajathurai, was a student of Professor Kam Hock Hoe's from 1964 until his passing in 1989.  Currently the IJJF has several clubs in Malaysia and Australia and is working hard to continue to pass on the vast array of techniques that make up its diverse style.
The modern Jui-Jitsu systems include many of the old school Samurai combat techniques, but are tailored more toward the modern environment, less toward the lethal style of it's origins. The IJJF style uses over 400 throws, locks and holds that are practised in a safe environment. Our style reinforces physical fitness, self-defence, and character development and is very effective for the self defence of yourself and your loved ones.
Instructor's certificates are awarded after the person is awarded a black belt and has completed all the required training, it is indicated by a 12mm red stripe at each end of the belt. Dan belts are represented by a 12mm gold stripe equal to the number level of the Dan belt sown into each end of the belt. Master Dan is indicated by a 25mm red stripe at each end of the belt. Master Dan rank can only be awarded by the Grand Master.